Catálogo Cores
Serviço de Catering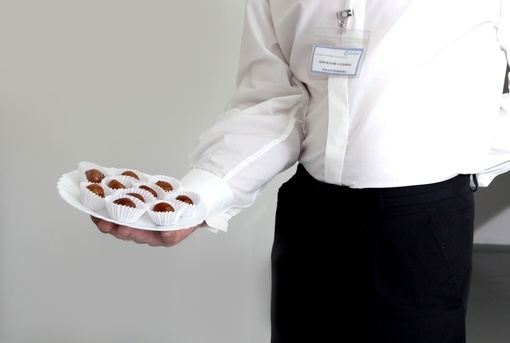 Serviço de comidas e bebidas para um determinado número de pessoas, desenvolvido num local e hora determinada, onde o cliente define o tipo de serviço e as iguarias nele servidas aquando da contratação do mesmo. Fornecimento de Refeições Diárias (Take Away ou Serviço de Entrega ao Domicílio); Almoços, Jantares ou Buffets para Eventos; Catering para Coffee Breaks, Coktails e Festas (aniversários, batizados, comunhões, casamentos, etc).
Aurora Social
Aurora Social's mission is to promote the occupation, rehabilitation and personal, social and professional appreciation of young people and adults with mild and moderate mental disabilities. It was founded in April 1994 by a group of parents whose common concern was the social and professional integration of their children. Since then, it has grown and developed.
Today, it is a reference institution in the market that operates, on the one hand, in the context of the solidarity economy, in order to support its own sustainability and guarantee the jobs created for people with special needs and, on the other hand, in the management of an Occupational Activities Center, working skills that aim to promote the autonomy of the individual and the active participation of the individual in the community. Your greatest wealth — open arms, innocent hearts, sincere smiles, grateful looks — the Love learned, the Love received, the Love given!
Operating in the city of Ponta Delgada, since 1994, Aurora Social is dedicated specifically to the areas of Catering, Catering and Artisanal Binding. The Sweets, traditional and refined, are of recognized merit, having already collected several awards in the categories of regional and convent sweets. Some say it's here if you make the best bean pudding on the island! The Catering Service is in charge of a specialized team ready to serve and satisfy any event. They prepare with rigor and quality the most varied menus for private and business parties, such as lunches and dinners, birthdays, baptisms, communions, among others, and have a wide range of appetizers and sweets that make the difference in any coffee break, cocktail or other similar events. They maintain a daily take-away meal service with the possibility of home delivery.
The Social Dawn is the motto "Tell us what you want us to do!"
Aurora Social also has a Handmade Binding service, where all kinds of personalized binding requests are executed (books, brochures, theses, covers, dossiers, among others) and are also proud to promote the restoration of covers and spines of old or damaged books.