Catálogo Cores
Biscoitos da Vavó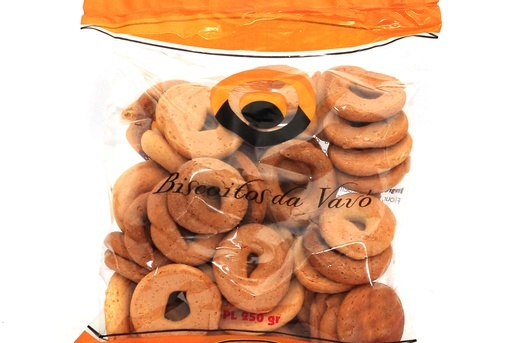 Produto seco/húmido obtido a partir de uma mistura homogénea de todos os seus ingredientes, seguido de uma cozedura. Apresentados sob a forma de rosquilhas médias, seguindo a receita antiga tradicional caseira. Sem adição de corantes nem conservantes. Cor castanho claro, podendo apresentar algumas variações. Sabor leve e agradável facilmente digerido.
Ingredientes: Farinha de trigo c/fermento Manteiga Açúcar Ovos Sal
Sol Nascente Association
We are a Private Social Solidarity Institution created in 1998 in Salga, Nordeste. The association was born from the volunteer spirit of women and men with a will to overcome some of the parish's shortcomings. The objectives are to promote social solidarity and equal opportunities, to respect and value the environment, cultural diversity and to contribute to local development. We produce a large range of diverse Bakery and Culinary products based on traditional home recipes using traditional methods.
With this in mind, a solidarity economy micro-company was created without the objective of making profit, but rather, with the aim of creating jobs and training for individuals in poverty or social exclusion. We also have fully equipped facilities for youth and children (between the ages of 5 and 12) Spare Time Activities, on a daily basis, and after working hours ITC facilities for youngsters and adults. Finally, we have special areas for training in handicrafts and for REATIVAR training programmes.