Catálogo Cores
Lagoa do Fogo e Furnas - Excursão dia inteiro (duração 07h30)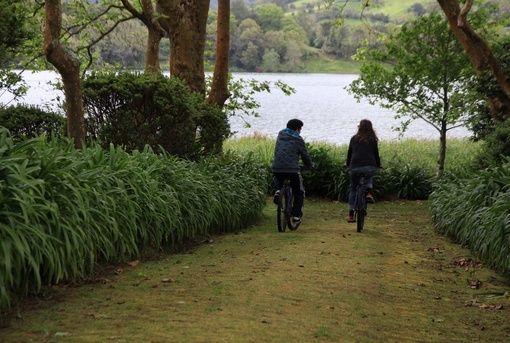 A excursão para Lagoa do Fogo e Furnas terá as seguintes paragens: Lagoa do Fogo, fábrica de chá Gorreana, miradouro do Pico do Ferro. Após o almoço, a próxima paragem será na lagoa das Furnas, na piscina termal da Poça da beja e no Jardim Botânico Terra Nostra.
Azores for All - Eco-Atlântida
It is a space where the whole community can find a tourist programme made to measure according to their own needs and conditions. The shop promotes and sells a type of tourism that is available to everyone and related to culture and tradition, to nature and environment protection. Besides a varied offer of leisure activities – canoeing, bicycling, trekking and jeep rides, ttraditional Portuguese games and Azorean country golf – the visitor can also find local produce as well as products with a Solidarity Economy origin from the Azorean Network of Solidarity Economy Companies. Cresaçor and its associate Associação da Juventude da Candelária have, since 2005, jointly promoted the Eco-Atlântida Shop in Sete Cidades with the aim of developing
these different forms of tourism – Social and Inclusive Tourism, Solidarity Tourism, Tourism for All – while, simultaneously, contributing to the local development of the parish. As a Tourist Development Company (license 08/2005), Cresaçor aims to aid tourist development in the Region and to contribute to spare time activities meeting the needs and expectations of the «traditional» national and foreign tourists as well as those of other sectors which, due to their specific disfavoured conditions, find themselves habitually excluded from these occupational and leisure activities. The motto is, tourism is for everyone.