Catálogo Cores
Coração de Nossa Senhora do Rosário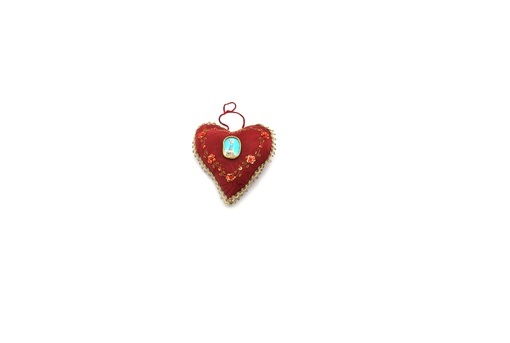 Bordada em tecido damasco vermelho, com preenchimento interior, decorado com o símbolo da pomba, canutilho, lentejoulas, fio dourado e galão. Estes corações são muito utilizados pelas pessoas nos carros como proteção divina.
Social and Cultural Centre of Atalhada
We are a Private Social Solidarity Institution (IPSS) created on the 17th of September of 1997 to promote social and cultural activities with the local population.
Our Handicraft Area «Lagoa Vale a Pena» (Lagoa is Worth It), was created in December of the same year within the scope of the «Lagoa Vale a Pena» Fight Against Poverty Project.
Its main aim is to train women and youngsters who desire to learn different manual crafts, thus contributing to the further qualification of human resources and the increase of family income.